(I actually just wanted to write a short bit about this movie for my "Best of 2012" list (oh yeah, I haven´t forgotten) but I seem to have way more to say about it than I originally thought, so here comes "3", the directorial debut of Aishwarya Dhanush (The One Who Is The Daughter To
Rajni
) is a tale about two lovers - Ram (a never-have-expected-to-be-that-awesome Dhanush (Aishwarya´s husband and Rajni´son-in-law) and Janani, the lovely - oh so lovely! - Shruti Hassan. (The One Who Is Daughter To
Kamal
)*And now someone say that Kollywood isn´t one big, happy family!* whose love takes an unexpected twist.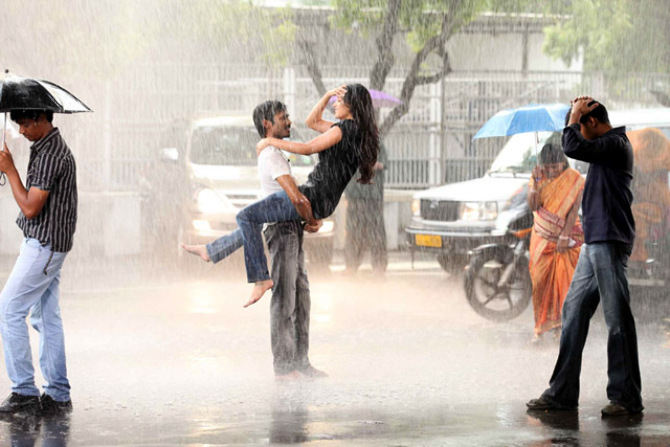 Happy times. As well as a lot of Dancing In The Rain. Which is always welcome.
After a short and highly unsettling intro that leaves the audience guessing what the hell happened, we fall back to a flashback that tells the story of how Ram and Janani met, fell in love and finally got married. The first half is your typical, run-of-the-mill filmy college romance but is presented in such a delightful and fresh way with beautiful songs and amazing performances that I didn´t feel bored one second. The movie gets really interesting in the second half when the story gets darker and more and more tragic as Janani (and we, as the audience) get the feeling that something is not quite right with Ram. I will not spill the beans because I think it´s rather obvious to people who are
not
me and people who
are
me would never have guessed anyway.
As the movie progresses so does the acting. The movie spans several years and shows Ram and Janani in different stages of their life so it gives he actors a lot of heavy and complicated stuff to work with and to sink their teeth in. Especially Dhanush of course, who can show that he is a really good actor but Shruti too, gets her moments to shine. Both of them make you feel with their characters as well as care for them which is important because they are the only important people in the movie. (Except maybe for Ram´s best friend whose name I have completely forgotten).
They also undergo a lot of physical changes. Hats off to Dhanush who made me totally believe that he was
Umm... okay I just stand there waving like an idiot until you notice me
...
a rather scrawny (and rather nerdy!) Indian boy in the first half only to emerge in the second half as this:
Not only does his appearence change but also his whole body movement as well as his demeanour and way of speech (at least that´s how I heard it with my not knowing Tamil et all).
As I started watching I didn´t exactly know what to expect, it was my second film with Shruti and my first with Dhanush. I was a little unsure whether I would like it but as the story unfolded I fell more and more in love with it. I loved, loved, looved the first half. The romance felt real, for once, because it didn´t go the usual way of southie masala that is "I-saw-you-once-but-I-totally-know-that-you´re-my-soulmate" but rather the "Hey-I-like-the-way-you-look-do-you-want-coffee?" (of course it was rather "Hey-I-like-the-way-you-look-do-you-want-to-be-my-girlfriend?" which is how romance seems to work in India they just skip the dating) but it was a little more subtle than ususal.
As mentioned, this was my second movie with Shruti and although many people do seem not to like her a lot, I am falling more and more in love with her. In "3" Dhanush may seem to have the "more important, big lead role" you know, what with all the *SPOILER* different personalities and such *SPOILER END* but Shruti is the one who makes it all relatable. As Janani, Shruti is us, the audience, who doesn´t know what the f**k is going on and who wants to find out. The movie is about her and it is her story. And Shruti, does this all without much effort, as it seems. Maybe I am just easily manipulated but as Janani was living through shock, fear, grief and depression (as well as love and joy in the first half, the film is nothing less than melodrama on a high, people) so did I. I laughed because of Shruti. I fell in love because of Shruti. I cried because of Shruti. For me, she did an amazing job.
Don´t cry, Shruti. I thought you were a total BAMF.
As did everyone on this movie. It is not often that I have nothing bad to say about a movie but "3" does everything right. From the story, to the direction to the performances, not one second did I feel bored or couldn´t relate to the characters. It might be a film which is not everyone´s alley, since it starts out with romantic fluff (but such adorable, adorable fluff!) only to dissolve into an emotional and gutwrenching mess half an hour later. It is not made to watch in half-an-hour slots between cleaning, making homework or painting your nails. It is a movie that demands your full attention. But it is well worth it and I would recommend it anytime.