This is the last post of Birthday Season for a while.
November 4th
: Happy Birthday to one of my friends, Manel! She is going to be 21 today and I wish her all the best! She liberally allowed me to post a photo of hers:
Moving on, another person who has celebrated his birthday on the high barb wire fences surrounding his house recently is
Shah Rukh Khan
who turned 46 on November 2nd.
Now my relationship with the King has been through kind of a rough-patch recently. I almost given up on him until wednesday evening where I took an hour long journey to the next town with a train that came an hour late to see SRK´s most recent movie, Ra.One.
God, was I afraid! I was so fed up by the more than aggressive promotion that started like a year before the actual movie released, the various interviews whith SRK claiming that Ra.One is India´s next superhero (which is unlogical anyway, since Ra.One is actually the villain) or that the VFX is something you´ve never seen before, that this is going to be India´s Crossover-Hollywoood-Like-But-Still-With-An-Indian-Dil SUPERBLOCKBUSTER, blah blah blaah. I was really scared that this movie is going to be SO BAD that I will walk out at the interval or at least will be so embarrassed in front of my Bollywood-Not-Liking friend who agreed to come with me that I will never be able to see her again.
But I was so wrong! Not only was Ra.One not a bad movie after all, it made me re-discover the thing that I call SRK-Filmi-Magic again that I was missing for such along time now.
When I first met Shah Rukh in the TV, I was mesmerized by a guy who could not only act and dance and sing (yeah, I actually believed that) but by a guy who could cry. Who was not afraid to show his feelings. That was something I´ve never seen before. I couldn´t get enough of that, I was literally hooked. Interestingly not to Bollywood per se, which I didn´t really had a concept of yet, but to Shah Rukh for sure. After seeing K3G I ran to my neighbourhood library and rent every movie with SRK they had. (Which was Dil Se, Duplicate and Yeh Lamhe Judaai Ke, a movie so bad even Shah Rukh is embarrassed of. )
"Yeh Lamhe Judaai Ke" i.e. The Worst Film That Ever Was
.
After living through all stages of Fangirlie-Ness (Which included going to Berlin on a very cold February day with the train, with two changes, coming late two hours, standing three hours in the cold with rain AND snow, then missing my train home which led to spending the night at a McDonalds, going back at 4 am, change trains again twice and coming back home at 8.30 am, just to catch a glimpse of him. (Which I did, I even touched his hand, YAY!)), to a more sober, deeper sort of love and appreciation, to a kind of distant and passive-aggressive reluctance based on mentioned above, I came around full circle and have found new love for the Badshah again. Ra.One made me realise that there is still some of the old Shah Rukh I used to love once, the energy and dimples and lightness I adored so much, which I really have missed recently and what made me afraid that the SRK I used to know has turned exactly into that: SRK. Which, with his cold-blooded, manipulative and calculating media persona, I really started to dislike.
Seeing Ra.One made me realise what made me fall in love with Shah Rukh in the first place, namely him being an actor and entertain us with his movies. I really hope that he realises that, too, that he doesn´t need to deliver the All-Time-Blockbuster or that he has to "change the face of Indian Cinema". As long as he continues to make nice movies I am happy. And so should he. He shouldn´t put himself on such a pressure because not only does it show in his physical appearance but also on his public persona. He was awesome ten years back when he was not an international superstar and he will remain awesome with the years. But I know, it´s like talking against a wall, since SRK is - like my mother, who is also a scorpio - never satified with what he has. He always has the feeling that he has to prove he is the best but I think it´s time that he realises that he does in fact get older and that that´s okay. You don´t need to have the body of a 20 year old to prove that you´re awesome.
With a little more flesh on his ribs in DTPH and still rocking. After all, only with a little fat are the dimples really showing.
After all, I have learned so much things from Shah Rukh and I´m sure I´m not the only one! For example, before finding him I never watched movies with subtitles, I thought that dance numbers in movies are embarrassing and that a movie over 2 hours long is doomed to be boring. Shah Rukh was the one who has started my addiction to Indian Movies. After moving on from being only fixed to his movies and discovering other actors, other genres (for 2 years or so, I thought Bollywood would exist only through Shah Rukh, Rani, Kajol and Preity and candy-flossed romance à la KJo-style) and even cinema with not only different languages but also completely different rules of filmmaking, I can really say that Shah Rukh has opened a whole new world for me and I will always be grateful to him for that. (Even if I get angry with him sometimes).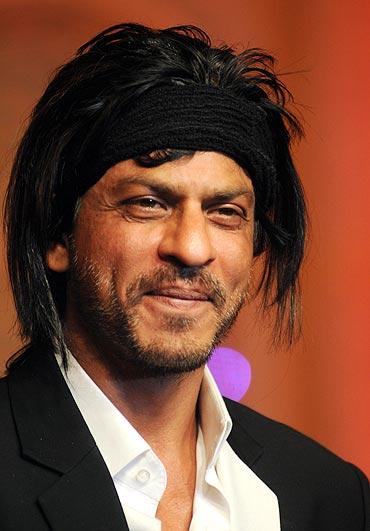 After all, my love for him so big, I find some positive aspects on attraction even in this look.
Who says that wrinkles aren´t sexy?